Looking for reliable accounting solutions for your manufacturing business? Maybe you need to scale up production and your current accounting system can't handle the expected workflow? If your answer is yes, welcome to Rayvat Accounting.
Ours is an accounting company offering tailored solutions to clients in different industries. We have an experienced team of certified accountants with extensive knowledge of the unique accounting requirements of the manufacturing clients.
Our accounting firm has been around since 2007 but our accountants and researchers have decades of combined experience. It is this experience we bring onboard your manufacturing business coupled with extensive resources and flexibility in accounting solutions.
What Is Manufacturing Accounting?
Manufacturing businesses source raw materials and transform these into new products. The process entails the use of labor, machinery, tools, and a variety of raw materials. In this business setup, it is easy for other non-core functions like accounting to be ignored which can lead to debilitating financial consequences.
Unlike a merchandising company that only handles complete items, your business has to deal with inventory valuation and the cost of goods sold. The statement used in a manufacturing business differs from that of any other business as it includes the cost of direct materials and labor and other production overhead.
At Rayvat Accounting, we appreciate that your business is more focused on getting products to market at the earliest time possible. We work closely with you to account for all expenses your company incurs while making products for resale.
To do this, we open a cost of goods manufactured account that will include:
Direct materials: This account reflects all the materials your company sources and uses to make a product.
Work in process: This includes goods or products in the production line. The work-in-process inventory tracks the cost of each product in the production line.
Finished goods: This is the inventory of costs associated with a complete product that has not yet been sold. The costs will include storage expenses and other associated expenses.
Who Need Manufacturing Accounting?
The main goal of an Accounting for manufacturing is to determine the cost of finished goods. At Rayvat Accounting, we implement the best accounting practices to improve cost-effectiveness for our manufacturing clients.
If your business handles raw materials and converts them into complete products, you need a manufacturing account. This account deals with the total cost of the goods sold, including the direct expenses.
You have to account for the raw materials and processing costs and also determine the value of the finished product. It is not an easy task as your team is more focused on the manufacturing side of things. This is where our flexible accounting system comes in handy.
If you want to run a cost-effective manufacturing business, manufacturing accounting should be an integral part of your operations. With our reliable accounting team, you can focus on your core business in the production line while we track the inventory and crank up the numbers.
Manufacturing Accounting Principles
In the competitive manufacturing industry, it is imperative to follow the best accounting principles to run a profitable operation. This not only helps with compliance but also makes your business more competitive.
Your manufacturing business indeed faces unique challenges when accounting for raw materials, supplies, inventory and sales. However, you have to comply with the best accounting practices set by The International Accounting Standards Board and the Financial Accounting Standards Board.
These accounting rules apply only to the manufacturing sector and include:
Accounting in a Manufacturing Environment
A manufacturing company must account for every component of the products it makes and sells. These include raw materials, supplies, partially-manufactured items, and finished goods inventory. The manufacturing process also includes labor which adds value to the goods. Direct manufacturing labor goes to the inventory while administrative labor is a period expense.
Accounting for Work-in-Progress
When products are in the production line, the total cost up to the point of their progress must be known and included in the manufacturing account. Standardization of the production costs makes tracking easier.
A manufacturer should recognize a sale after the risk and rewards of ownership move to the customer. This is mostly after shipping from the manufacturer's facility.
Finished inventory can lose value when in storage awaiting shipping to a client. The manufacturer must review inventory and update the value of the product on the balance sheet to reflect such loss of value/obsolescence.
Manufacturing Inventory Accounting
Your company will use a certain amount of raw products, work-in-process, and finished goods in the production line and our team will keep track of the expenses involved. Through our online accounting services, we also value any ending balances in your business' balance sheet.
We also implement a periodic inventory system or perpetual inventory system to track the number of products on hand at any time in your production line. The results will help us with a valuation of inventory. Our perpetual inventory gives accurate inventory unit quantities at all times.
Through rigorous cycle accounting and bookkeeping, we ensure the highest level of accuracy for your manufacturing business. Our accountants appreciate the extra work required accounting for manufacturing business and we have designed the best systems to handle this.
Manufacturing Accounting Examples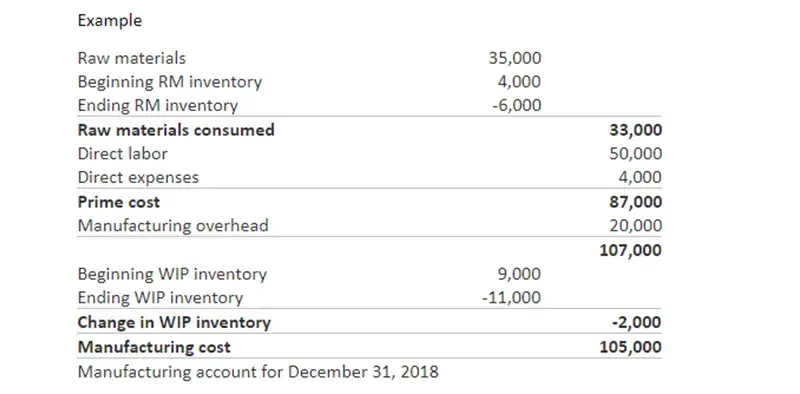 Manufacturing Accounting System
Manufacturing accounting systems help streamline the complex system. There are different accounting systems with unique working guidelines such as job order costing, process costing, activity-based costing, and variable costing.
They come with features and capabilities such as material requirements planning (MRP), QuickBooks accounting, purchasing, manufacturing management, bill of materials, assembly management requirements raw materials management, barcoding, asset management.
Other manufacturing accounting systems feature cycle counting and customized reporting inventory management, sales management, accounting and finance, inventory for multiple locations, reporting, and analytics.
At Rayvat Accounting, we help our manufacturing clients choose the best accounting services to suit their unique business operations.
Why Rayvat Accounting for Manufacturing Businesses?
If you are looking for a manufacturing business Accounting, we are here to help. Rayvat Accounting offers friendly, affordable, flexible, and reliable manufacturing accounting services to every client.
By choosing our accounting services for your manufacturing business, you get the following:
Highly trained and certified team of accountants at your disposal
Flexible and tailored accounting solutions
Latest cutting-edge accounting solutions (over 350 business solutions).
Quickbooks Certified ProAdvisor and Xero Certified Partner
Improved business performance through hands-on accounting processes
Improved productivity by freeing your employees to work on core business areas.
Comprehensive financial outsourcing services in one place
Join over 500 happy clients across multiple industries


Clients enjoy the best manufacturing accounting services. Contact us today and join a happy family of over 500 clients from across the globe.