When it comes to trading, keeping your finances in order is of the utmost importance. So your invoices are sent on time and paid on time. You can also predict cash flow and have a record of your finances in case the IRS needs to look at them.
Fortunately, accounting today is much easier than it used to be. There is indeed a wide range of best accounting software that is aimed at business managers rather than accountants, so that they are much easier to understand and hardly need time to write. 'adaptation. There are now services directly connected to the cloud, which allow you to monitor your business from anywhere on any device you are connected to. Fortunately, most offer a free trial so you can try before you buy.
What are the different types of accounting software available?
In the past, accounting was done automatically, but today there have been so many technological advancements that processes have been automated and improved. Many of them can be integrated with other IT systems such as CRM software or e-commerce platforms to further facilitate tasks.
Once you have an overview of the different types of accounting software available, it's easier to choose the one that's right for your business. Then choosing the best online accounting services depends on the size of your business and its needs.
Here are the different types of accounting software:
Business accounting software
This type of software is designed for large corporations, financial companies and banks. It is an all-in-one system capable of streamlining tedious tasks. Its advanced features facilitate point-of-sale operations, customer relationship management and comprehensive reporting. Given the large number of processes involved, it can take a lot of familiarization time for employees. Xero and QuickBooks Enterprise fall into this category.
Cloud accounting software
Many programs are available online and are accessible in the cloud. They are most popular among start-ups and small businesses due to their flexibility and low price. Cloud computing solutions are easier to implement, but are less secure than other options because the data is processed in the cloud. This type of software allows you to access data on the go and easily share it with others. QuickBooks is an example of this category.
Accounting and payroll software
This type of software is interesting for small businesses since it allows you to calculate bonuses, automate year-end reports and create payslips. These programs can store your business financial data and provide forecasts. Some are so advanced that you don't need to understand how taxes work. This option is often targeted by cyber criminals and poses an increased risk of data loss and theft due to its simplicity.
Here are six of the best accounting software on the market
With so many different offers out there, it can be very overwhelming trying to choose the right accounting software for your small business. We've narrowed the list down to the top five options to help make your decision a little easier.
1. Quickbooks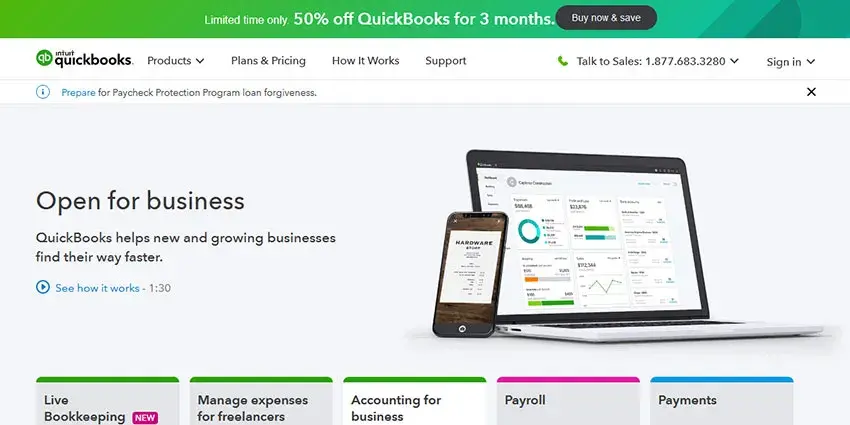 The North American company Inuit has created the QuickBooks Online tool, which offers three distinct offers: Simple Start costs € 10 / month, Essentials € 25 / month and Plus € 35 / month. The company regularly offers a 50% discount on the sale, so packages are often half price. There is also a 30 day free trial option. With QuickBooks, you can track income and expenses, enter and organize receipts, invoice and accept payments, run basic reports, and more. So far, the software has more than 5.6 million customers worldwide.
Read More: Top 10 Reasons To Use QuickBooks
2. Xero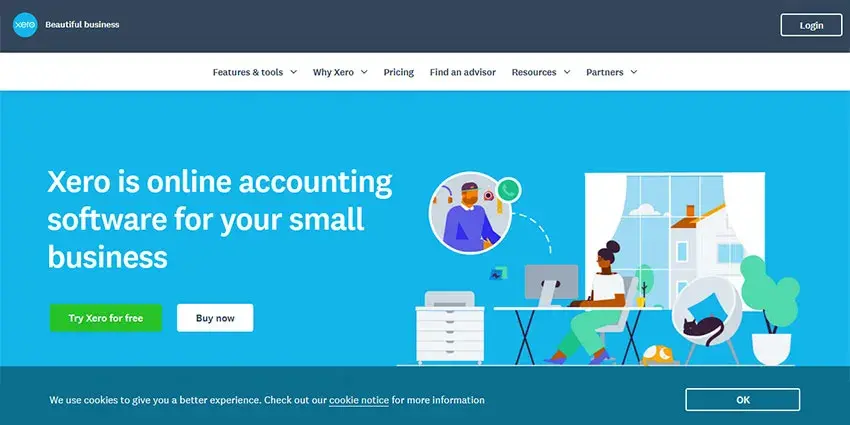 Xero scores big for its robust features and low starting price. For just $9 a month, you can send custom invoices, reconcile bank transactions to balance the books, capture receipts for easier record keeping, and track inventory.
But Xero really stands out on the collaboration front. Unlike nearly every other accounting solution (including QuickBooks and FreshBooks), Xero's plans all include unlimited users. You don't have to pay extra to delegate responsibilities like bank reconciliation or expense tracking to another team member: time-saving collaboration is built into your price.
3. Wave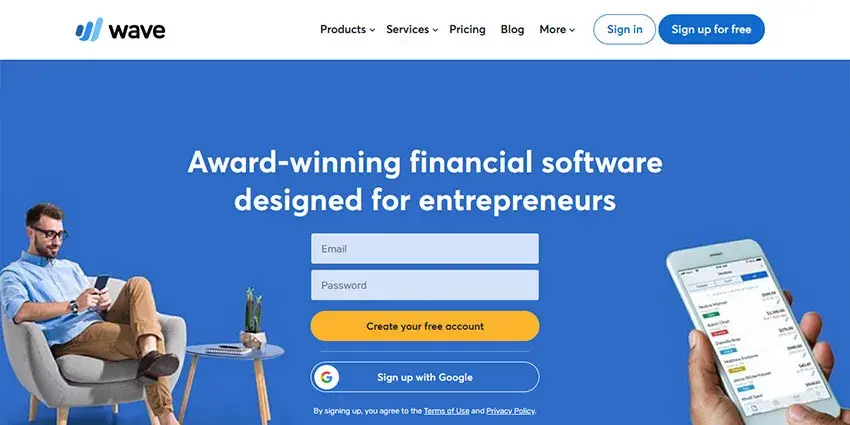 Wave is a little different from the other options because it's completely free software. It has been voted "Best Free Accounting Software for Business" by several companies. This free accounting software has no hidden fees and has just as many features as paid software. Users can expect features like invoice reminders, instant updates for billing, payroll and payments data, income and expense tracking, and more. It is also possible to manage several companies in one account and to accept payments in foreign currencies.
4. Sage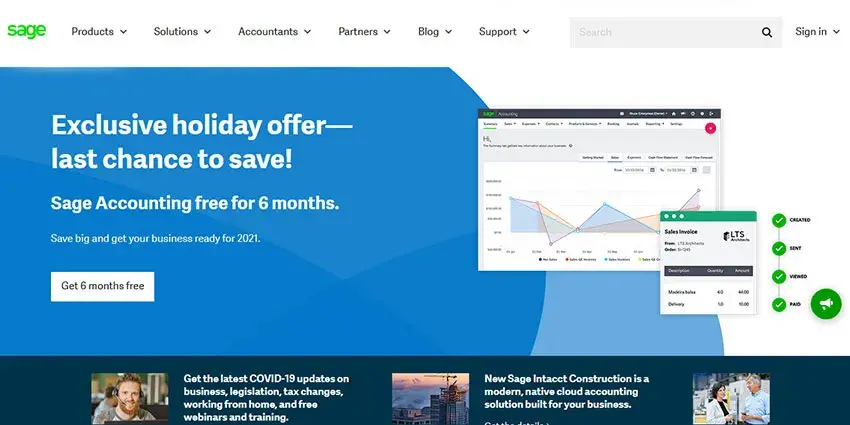 The Sage group is currently the second most powerful in the United Kingdom, but enjoys wide visibility in the French market, notably thanks to its best accounting software Sage Business Cloud Accounting. This small business accounting software can help you improve your cash flow by tracking invoices, payments, and expenses. By facilitating many processes such as administering and automating routine tasks, you have more time to focus on other aspects of your business. You can try the software for free for 30 days, or buy one of the packs: Compta and Billing Start for € 9 / month or Compta and Billing for € 25 / month.
5. Zoho Books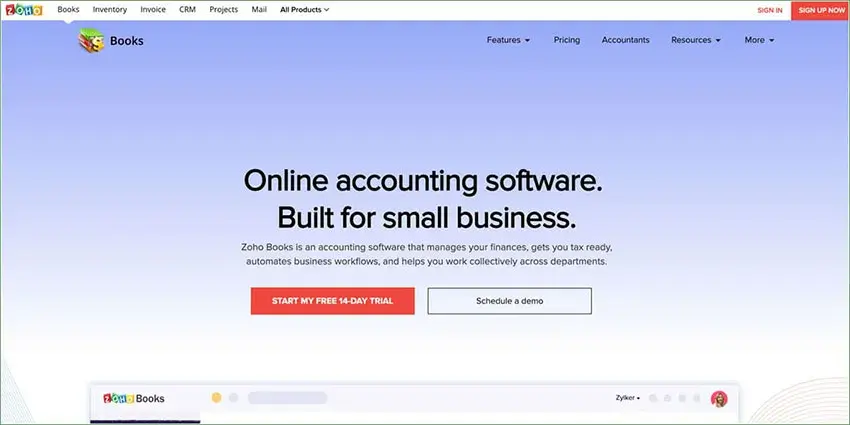 Zoho Books, headquartered in California, offers accounting software to small and medium businesses to help them grow and stay in control of their cash flow. After the 14-day free trial, you can choose between the Basic (€ 9 / month), Standard (€ 19 / month) or Professional (€ 29 / month) plans, and if you buy the annual plan, you get two months free. Even the cheapest package includes bank reconciliation, personalized invoices, projects, schedule tracking, expense tracking, sales approval, and recurring transactions.
6. FreshBooks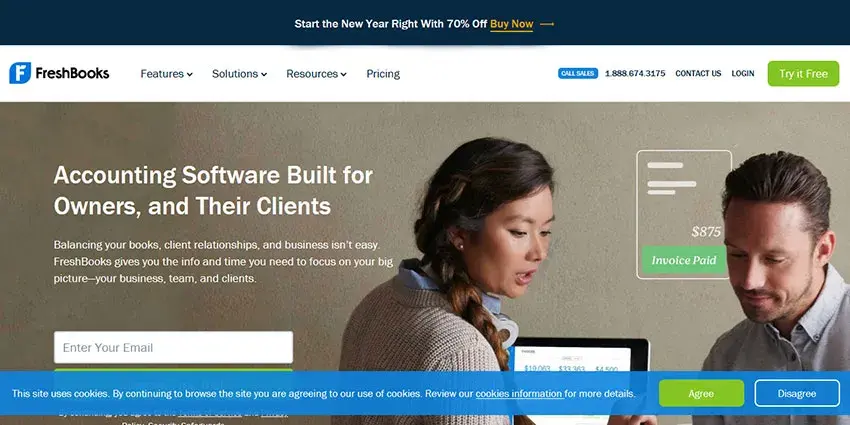 Unlike Xero, FreshBooks lets you send an unlimited number of invoices and estimates with every plan. Each plan also includes time tracking for easier, more accurate client billing, plus expense tracking to keep your budget balanced.
Alas, also unlike Xero, FreshBook isn't great for collaboration. If you want to add people to your plan, you'll pay an extra $10 per month per user. Solopreneurs and freelancers shouldn't have an issue with FreshBooks' costly collaboration. But businesses that need more than one set of eyes on their finances should check out Xero or a provider like QuickBooks that rolls additional users into its higher-tier plans.
If you are looking for accountants near me for small businesses? That can do prepare your yearly taxes. Our Certified Accountants have been helping small businesses for their online accounting such as manage Bookkeeping Services, Accounts Payable, Accounts Receivable, BAS & Financial Statements, Payroll, and Tax Return Preparation, Inventory & Cash Flow Management, etc.
Kindly contact us today for more details and a specific quote.