Before you can set a price for any item you manufacture, you must calculate the per-unit manufacturing cost. This product cost calculation includes elements such as the cost of raw materials, direct labor, and overhead costs. The price you set determines your profit margin. If your business handles raw materials and converts them into complete products, you need a manufacturing account. This account deals with the total cost of the goods sold, including direct expenses.
The main goal of an Accounting for manufacturing is to determine the cost of finished goods. At Rayvat Accounting, we implement the best accounting practices to improve cost-effectiveness for our manufacturing clients.
What Is Manufacturing Overhead Cost?
Manufacturing costs are the costs incurred during the production of a product. These costs include the costs of direct material, direct labor, and manufacturing overhead. The costs are typically presented in the income statement as separate line items. An entity incurs these costs during the production process.
Direct material is the materials used in the construction of a product. Direct labor is a portion of the labor cost of the production process that is assigned to a unit of production. Manufacturing overhead costs are applied to units of production based on a variety of possible allocation systems, such as by direct labor hours or machine hours incurred. Examples of the types of costs that can be included in manufacturing overhead include:
Salaries and wages for quality assurance, industrial engineering, materials handling, factory management, and equipment maintenance personnel

Equipment repair parts and supplies

Factory utilities

Depreciation on factory assets

Factory-related insurance and property taxes
When accounting for inventory, include all manufacturing costs in the costs of work-in-process and finished goods inventory.
What Is Manufacturing Accounting?
Manufacturing businesses source raw materials and transform these into new products. The process entails the use of labor, machinery, tools, and a variety of raw materials. In this business setup, it is easy for other non-core functions like accounting to be ignored which can lead to debilitating financial consequences.
Unlike a merchandising company that only handles complete items, your business has to deal with inventory valuation and the cost of goods sold. The statement used in a manufacturing business differs from that of any other business as it includes the cost of direct materials and labor and other production overhead.
At Rayvat Accounting, we appreciate that your business is more focused on getting products to market at the earliest time possible. We work closely with you to account for all expenses your company incurs while making products for resale.
Define Total Manufacturing Cost
The accounting and business term, total manufacturing cost, also called the cost of goods manufactured, which shows up in the cost of goods line in the income statement, which encapsulates a company's expenses across departments during the three stages of the manufacturing process:
Direct materials: This account reflects all the materials your company sources and uses to make a product.
Work in process: This includes goods or products in the production line. The work-in-process inventory tracks the cost of each product in the production line.

Finished goods: This is the inventory of costs associated with a complete product that has not yet been sold. The costs will include storage expenses and other associated expenses.

It provides detailed accounting for the costs of labor, materials, and overhead costs.
Manufacturing Accounting Principles and Example
In the competitive manufacturing industry, it is imperative to follow the best accounting principles to run a profitable operation. This not only helps with compliance but also makes your business more competitive.
Your manufacturing business indeed faces unique challenges when accounting for raw materials, supplies, inventory, and sales. However, you have to comply with the best online accounting services set by The International Accounting Standards Board and the Financial Accounting Standards Board.
Example: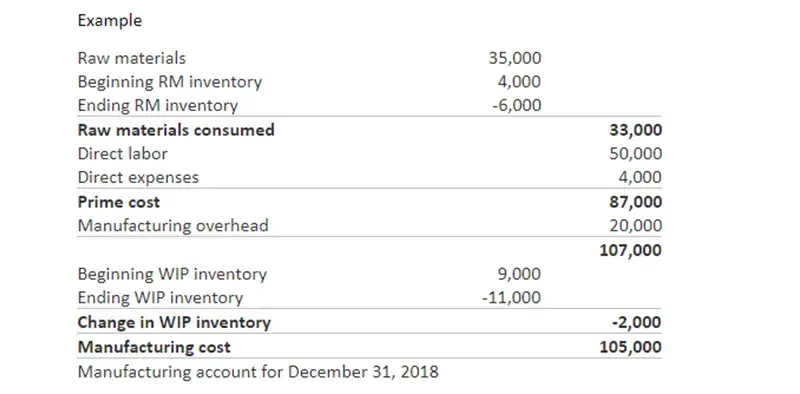 Total Manufacturing Cost Formula
While many math formulas used in finance and business require complicated arithmetic, the total manufacturing cost formula does not.
The formula is: Total manufacturing cost = raw materials + direct labor + manufacturing overhead
While direct labor cost and cost of manufacturing overhead remain a straightforward calculation of summing, the cost of raw materials, also referred to as direct materials cost, used in the total manufacturing cost calculation requires a formula as well.
The formula is: Cost of raw/direct materials = Beginning inventory + Purchases added – Ending inventory
How To Calculate Manufacturing Overhead Cost?
The simplicity of the formulas belies the work behind calculating them. Your first step, calculating the total cost of direct materials used in the manufacturing purposes, entails an analysis of construction, so you include the cost of each nut and bolt. Determine the actual cost of each component of raw materials required to manufacture the finished product. Sum these expenses for the raw/direct materials component of the equation. Second, calculate the total cost of labor that contributes directly to the manufacturing process. This includes salaries, wages, incentives, and benefits. Third, you calculate the total cost of manufacturing overhead, which takes into consideration indirect costs such as indirect labor and indirect materials, utilities, repair and maintenance costs, taxes and insurance, depreciation, and stolen assets.
Manufacturing Accounting System
Manufacturing accounting systems help streamline the complex system. There are different accounting systems with unique working guidelines such as job order costing, process costing, activity-based costing, and variable costing.
They come with features and capabilities such as material requirements planning (MRP), QuickBooks accounting, purchasing, manufacturing management, bill of materials, assembly management requirements raw materials management, barcoding, asset management.
Other manufacturing accounting systems feature cycle counting and customized reporting inventory management, sales management, accounting and finance, inventory for multiple locations, reporting, and analytics.
At Rayvat Accounting, we help our manufacturing clients choose the best accounting services to suit their unique business operations.
Why Is The Calculation Of Total Manufacturing Costs Important?
Monitoring the company's financial statements is critical as owners can analyze the manufacturing cost as a proportion of total sales between accounting periods. Knowing this, management can then look to cost cost-cutting measures to improve profitability.
Why Rayvat Accounting for Manufacturing Businesses?
If you are looking for a manufacturing business Accounting, we are here to help. Rayvat Accounting offers friendly, affordable, flexible, and reliable manufacturing accounting services to every client.
By choosing our accounting services for your manufacturing business, you get the following:
Highly trained and certified team of accountants at your disposal

Flexible and tailored accounting solutions

Latest cutting-edge accounting solutions (over 350 business solutions).

Quickbooks Certified ProAdvisor and Xero Certified Partner

Improved business performance through hands-on accounting processes

Improved productivity by freeing your employees to work on core business areas.

Comprehensive financial outsourcing services in one place

Join over 500 happy clients across multiple industries
Clients enjoy the best manufacturing accounting services. Contact us today and join a happy family of over 500 clients from across the globe.